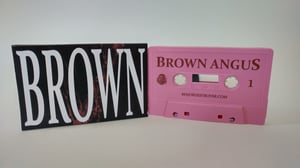 $

8.00
Brown Angus, the Minneapolis based duo consisting of Craig Lee (bass) and Blake Jette (drums) present their self titled oblation of filth. Sixteen minutes of spastic, 'roll your eyes back' intensity, topped off with a few epochs of peaceful diversion.
Heavy and obscure noise rock!
Limited to 100 pink colored cassette tapes.
UP FOR SALE NOW
$8.00 US/Canada
$12.00 International
(both prices include shipping)